Recently, Edwardsville Public Schools, District 7, located in a small suburb of St. Louis across the Illinois border, banned the discussion of the events surrounding the Aug. 9th killing of Michael Brown in Ferguson, Missouri.
September 4th, 1957: Dorothy Counts, one of four African-American students admitted to Harding High School in Charlotte, North Carolina, sits in a lecture hall at the all-white school, facing harassment, torment and ridicule. She attends for four days before her father, fearing for his daughter's safety, removes her from the school.
August 26th, 2014: Edwardsville, IL, a mid-size suburban school district just west of Ferguson bans conversation about the murder of Michael Brown by an officer of the Ferguson police department. If students ask about the death of Michael Brown, instructors have been told to defer or change the subject, a policy stemming from a complaint by parents of students located in the district.
Here are a few necessary observations: Edwardsville, District 7 is composed of 83% Caucasian students and 7% African-American students. It's a quiet suburb nestled on the outer fringes of St. Louis. Approximately 18% of Edwardsville students fall into the category of "low-income".
The district prides itself on a 96% graduation rate. In the most recent statistics available, the city has a murder rate of 0.
In a traditionally white, peaceful suburb, Michael Brown's death seems a world away. The Ferguson Police Department, though suburban itself, appears to be part of the larger, dysfunctional St. Louis and East St. Louis Police Departments, and therefore unrelated to the day-to-day progression of suburban life. I'm familiar with this life, having grown up in a traditionally white, peaceful suburb of Toledo, OH.
The events pass by as faceless news stories, glimmers of other lives from other places, detached from any applicable action that could interrupt a trip to the supermarket, the library, or the corner gas station.
Still these stories circulate on the television and over the Internet, part of a now 24/7 news cycle, and kids are exposed to them through dozens of news articles from dozens of different outlets, from word of mouth, and, hopefully, from their teachers.
After all, school is a place that, according to Edwardsville Public Schools' mission statement, "must set the standard for community involvement, and it must prepare our children to live and work in an ever-changing global society."
With Michael Brown's death, the dynamics of racial tensions in all of America have opened up for discussion. His death came in the midst of a series of incidents involving police violence, including the deaths of Eric Garner, Ronald Singleton, and Kajieme Powell.
Although it is unlikely that these deaths will do anything in the short-term to change the justice system or even the systematic racial profiling that the police force perpetuates, it is likely to have far-reaching effects for the way in which we view our history, the way that we look back on the summer of 2014.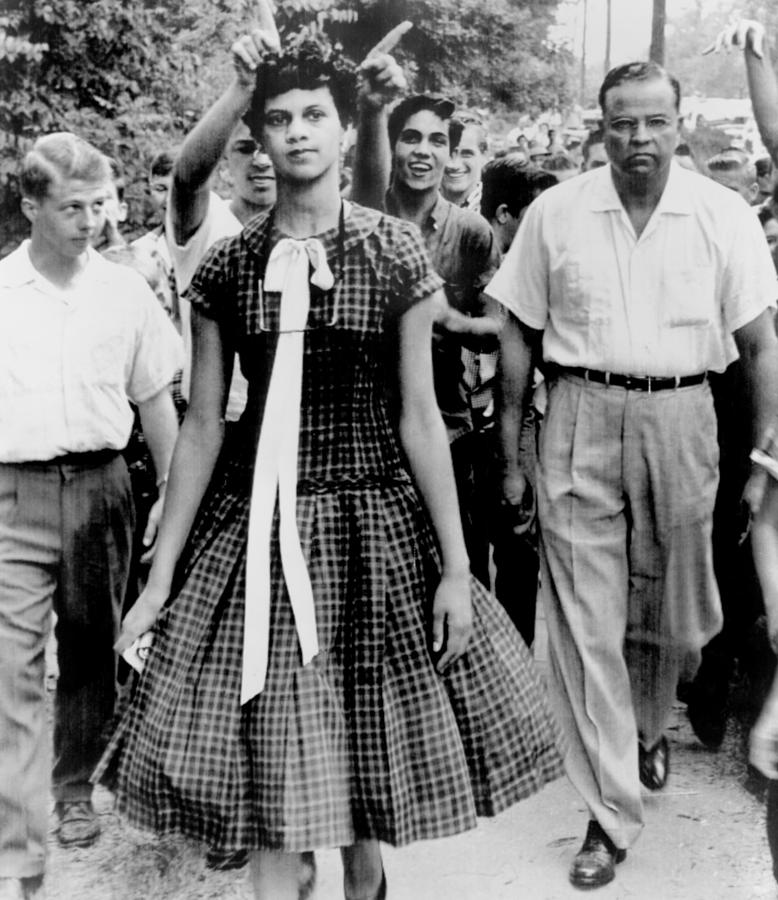 This is where Dorothy Counts comes in. It's been 57 years since she set foot in Harding High School, and we still have communities that are unwilling to face the fact that we live in an unequal society. The African-American Civil Rights Movement, by most definitions, ended 46 years ago. It takes a long time to enact major social change, and it's clear that we have a long way to go.
By keeping Michael Brown out of the classroom, Edwardsville Public Schools is perpetuating the same mindset of ignorance and racism that followed Dorothy Counts into the classroom 57 years ago. In an ideal world, the classroom should be an opportunity for open discussion in the presence of teachers and counselors who know how to address social and political issues with respect, diversity, and compassion.
Obviously, the system often neglects to realize these goals. I formerly taught Language Arts to Cleveland inner city middle-schoolers, and frequently the system failed to provide them with the help, resources, and counseling that they needed to succeed.
However with an outright ban on discussing Michael Brown's death in the classroom, Edwardsville Public Schools have eliminated any possibility of teaching students how to identify, address, and overcome racism in present-day society. Education is not simply geometry and biology.
It is (according to Edwardsville Public Schools' mission statement) an opportunity for "community involvement" and a preparation for students to "live and work in an ever-changing global society".
I'm presuming that the photo of Dorothy Counts evoked an emotional response. For me, as a privileged white male, it brought about a wave of shame. Shame that I'm a part of the same group that acted upon racist values that endangered the safety and prohibited the education of a courageous, talented African-American woman. Let's spare our kids that same shame.
To the Edwardsville school board: this country is changing. Are your students?
---
Carson Parish is a first time contributor to the Chicago Monitor and is currently working towards achieving his MA in Film and Creative Writing.